---
Rants & Raves
« Bye Russ! | Main | TSS on the Tech Live Set, Part 2 »
---
March 18, 2002 TSS Tries out the Tech Live Set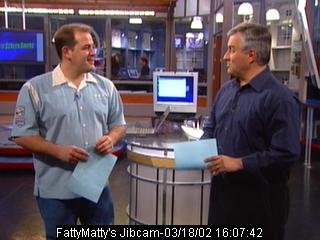 Tech TV showed a repeat episode of TSS today so that The Screen Savers could test how the show would look on the Tech Live set. TPTB (the powers that be) think that the current set isn't slick enough. The test rehearsal wasn't broadcast, but Matty's jib cam caught the action. Here's a slideshow of what the jibcam saw:
Slideshow: TSS Rehearsal on TechLive Set (7.2 MB Quicktime)
Posted by Christy on March 18, 2002 08:20 PM
---
Comments:
---
Loved the clip!!!
Posted by: Rachel on March 19, 2002 01:11 PM
---
Christy, great job as usual. Interesting to see the looks on peoples faces as their going through this.
Posted by: John on March 19, 2002 01:27 PM
---
Post a comment