Rants & Raves Archives
« May 2001 | Main | July 2001 »
---
June 28, 2001 Should Leo Call Someone Else a Monkey?
Quote of the night:
"One win, one loss, one tie, and two do-overs."
By Emmett Stant, on the appeals court decision concerning Microsoft's monopolistic activities.
In tonight's bootcamp segment, Leo said that using TweakUI was the only way to move your My Documents folder to another drive, such as a second partition of your hard drive. This is not strictly true, at least, not in Windows 98. You can achieve this more easily by right-clicking on the My Documents folder on the desktop and changing the field to where it says target. You don't even have to reboot your computer for it to take effect, which you have to do if you use TweakUI for this task. What also was not clear in the segment was that changing the location of the My Documents folder in this way (or my suggested way) will not move the files that are already in the original My Documents folder. It will simply create a new folder called "My Documents" in the place that you specify, and the My Documents shortcut on your desktop (and elsewhere) will link to it. The old My Documents folder will still be where it was, with the files still in it; it just won't be the My Documents Folder. You have to move the files to the new location yourself. I did like the suggestion of moving the Favorites folder, which does seem to require TweakUI. On my computer, I followed Leo's partitioning suggestion to create a separate (D:) partition for data. That way if your Windows
installation gets messed up and you have to format and reinstall, you can just format and reinstall Windows on the C: drive. You won't lose your data on the D: drive. Moving the Internet Favorites folder will keep them intact in case of a format and reinstall, and will help me remember to include them on my CD backups.
The U.G.O (unidentified geeky object) that has been crossing the screen on recent nights is Mr. Lockergnome himself, Chris Pirillo, who will be on Call For Help starting next week. He has appeared via netcam on TSS several times, always to entaining effect ("Leo,...I am you son!").
Unfortunately, I don't have time tonight to mess with my image editing program. So, would someone out there please find a monkey picture and plaster Leo's head on it? Leo abused Megan twice tonight, first by saying that some people were imagining that she had no pants on (!!!). Then, after graciously donating her home movie of her nephew Cole for use in a segment, Leo kept referring to him
as "monkey boy". I think Leo spent way to much time looking at that 125-page legal document on the appelate court decision, and was feeling a little cranky. I know! Feed him some more caffeinated mints! Or, maybe that was what caused this in the first place.
Posted by Christy at 10:21 PM
---
Sooooo......Patrick.........what was in the box?
On Tuesday night's show Leo was showing a box which appeared to be a present to Patrick from his admirers at nortonfans.com. But, we never got to see what it was! If you're a Partick Norton fan, definitely check out the nortonfans site. Patrick must have turned a few shades of pink when he first saw that opening flash animation.
Quote of the Night:
Patrick: We can do anything once on The Screen Savers, and if we don't go to jail or blow up, we can do it a second time.
Posted by Christy at 10:15 PM
---
June 26, 2001 Martin Is One Buff Dude! ;)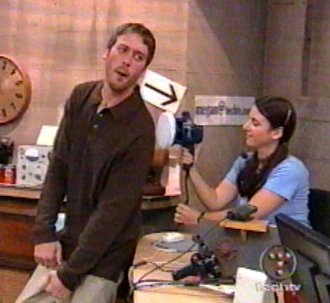 Posted by Christy at 10:10 PM
---
June 25, 2001 Motherboard Woes
On today's show in the ending email segment they mentioned that they had switched to an MSI motherboard for UGM 3.0. They didn't say which one exactly, but since they said it was a VIA chipset, and I'm sure they stuck with DDR RAM, so most likely they have the MSI (Microstar) K7T266 Pro, which was reviewed by HardOCP as being a very stable motherboard. Warning! If you choose to visit MSI's DDR webpage, turn down your speakers. They have an extememly annoying and uncalled for sound effect that loops endlessly.
It seems that TSS has had quite a time with the Athlon DDR motherboards. They originally started with the Asus A7M266 and I think they also tried a Gigabyte board. Tonight they mentioned that they had used an Asus A7A266 before moving to the MSI board. Whew! I wish they'd keep us more up-to-date on problems with UGM, because some of us home PC builders rely on this information. It was fun to hear a bit from Darci Wood. It seems she's a real hard core techie. Just check out the specs on her own computer. She's also responsible for the Asteroids game on the set. Maybe TSS can get her into a segment on the air?
In the opening segment, Martin made a passing reference to "McNubbins". I'm a little fuzzy on the details, but McNubbins is a neighbor of Martin's in the same apartment house. For the most part, Martin has simply had fun using the guy's name on air, and McNubbins, at one point, wasn't exactly thrilled about that.
Posted by Christy at 10:07 PM
---
June 14, 2001 Favorite TSS Moment
The Screen Savers are conducting a poll to Vote for Your Favorite Screen Savers Moment. Currently, the introduction of Jessica and Megan is in the lead, but I'm rooting for Patrick smashing stuff. That was the theme of last year's winning segment, Patrick Maims the Billy Bass Fish (click the video highlight link), and it's always fun when Patrick channels Gallagher.
Yay! TSS finally featured the results of Steve Gibson's investigations into the recent DDoS attacks (see my post for 6/8/2001 below) against his site. It was good to hear a follow-up and find out that the attacks have pretty much ended. His ShieldsUp program is a wonderful free service to Internet users, and it appears that he has been able to resume that feature of his site at grc.com.
In the segment where Yoshi upgrades the producer's wife's computer, take a close look at his hands. The scrapes across his knuckles are the mark of someone who wrangles PC hardware. I recognized them from my own experience wrestling with PC parts.
Posted by Christy at 10:03 PM
---
For those of you who are curious, here's a picture of an NLX motherboard that Patrick was talking about: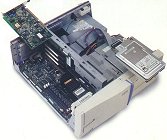 click to enlarge
Posted by Christy at 09:57 PM
---
Jessica's Site of the Nite: despair.com
For those who don't remember, despair.com made the news on TSS back in March when they announced that they had patented the frownie face emoticon and were going to prosecute anyone who used their trademark, be it in email or whatever. The part about suing for infringement was a joke, but the fact that they received the trademark patent was not. Check out the article on Despair's site. Despair is the company that makes parodies of those motivational posters that you see in office buildings and such. My favorite is the one about conformity.
I read Jessica's write-up for her Site of the Nite. Why am I not surprised that she's a fan of motivational speakers and self-help books? As if she needs any help. :)
Windows Tip: I haven't tried this tip but I was wondering, why bother using Notepad and doing a file search for windows.ini? Running sysedit (click Start, Run, and then enter "sysedit") is a lot faster, and it has a search function to help you find the right section. Maybe sysedit is not included with newer versions of Windows? (I run Windows 98)
Posted by Christy at 09:54 PM
---
June 08, 2001 Gibson Vs. The Script Kiddie
Recently, Steve Gibson was on TechTV briefly via netcam to talk about a recent denial of service attack against his site http://grc.com. Gibson has been on the show several times to talk about his free utilities ShieldsUp! and OptOut. ShieldsUp! tests the security of your internet connection against hackers, and OptOut removed the infamous Aureate spyware from users' computers. As proof of the adage that "no good deed goes unpunished" a malicious hacker has attempted to shut his site down.
Gibson launched an investigation into who caused the attack and why. Earlier this week, he posted an article on his website detailing the results of his investigation. It is a fascinating read. I highly recommend it if you are interested in security issues. Among other things, he found that Zone Alarm does stop the Trojan horse activity, and Black Ice Defender does not. He also issued notice to Microsoft that the release of XP will cause the number of DoS attacks to increase dramatically due to its ability to allow IP spoofing.

Steve Gibson's TechTV article on Internet Security Includes video of his appearance on Call For Help
Steve Gibson's TechTV article about OptOut Includes video of Gibson discussing OptOut on TSS
Last Friday, Leo started to read a viewer email asking how to customize the animated logo in Internet Explorer. It's been a week and they haven't gotten back to it, so I put instructions on how to do it on my FAQs & Tips page.
Posted by Christy at 09:48 PM
---
June 04, 2001 Computer Carnage
To illustrate a news statistic from the U.K. stating that 25% of computer user have physically attacked their machines, Patrick introduced one of the shows dead computers to the business end of his favorite studio prop. This one is sure to make the highlight reel.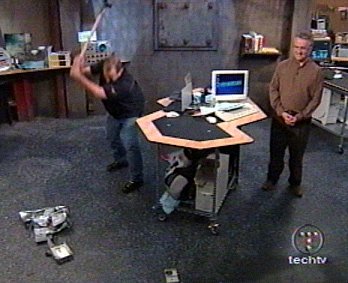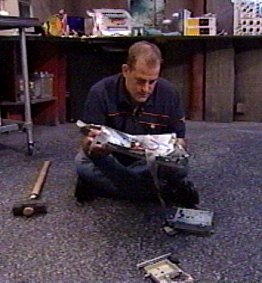 Quote of the day - Leo
"Patrick's like the gorilla in the Samsonite commercial."
This segment reminded me of my 10th grade algebra teacher, Ms. Savage, who was famous for saying, "If your having trouble (with the homework), don't go home and kick the dog, come and get some help!" TSS has certainly done its part to prevent such cruelty to computers, helping to solve computer problems before user frustration leads to violence. Also reminds me of the Dilbert t-shirt showing Dogbert carrying a baseball bat, walking away from a smashed computer. The caption reads: "The network is down. But I'm feeling better."
(Follow-up on 6.7.2001)
Check out the pictures from the 6/6/2001 blog on Leo's personal web site, leoville.com. Patrick's expression in the third shot is priceless.
Posted by Christy at 09:41 PM
---
I was very interested in the segment on CDDB, the Internet service that looks at a music CD in the CD-ROM drive and automatically fills in song titles. It doesn't identify the album by the encoded serial number on the disk, as I would have thought. It looks at the song lengths and compares it
to a database.
In case you couldn't see it, Megan's shirt said Chicks dig Unix.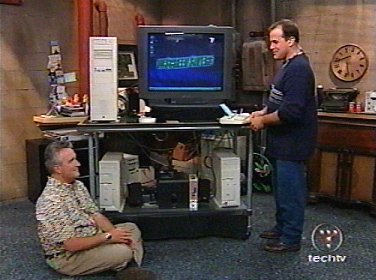 Leo sits down on the job.
Posted by Christy at 10:52 PM
---