---
Rants & Raves
« TSS on the Tech Live Set, Part 2 | Main | XP PowerToys »
---
March 30, 2002 TSS at the Movies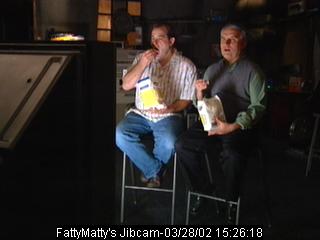 At the end of the show Friday, Leo announced that he and Patrick would be hosting movie features on TechTV. It will be starting next Friday with the movie Coma. The above jibcam capture is believed to be of the taping of a promo for the show.
TechTV announcement for "The Big Screen Screen Savers"
A fellow TSS fan who missed Friday's show asked me, "Is it going to be like Dinner & A Movie (a show on TBS)?" I don't think it will be, but I thought, wouldn't that be a great idea? If they show Young Frankenstein for instance, Patrick could show how to build a Jacob's ladder during the breaks, as he did on TSS about a year ago: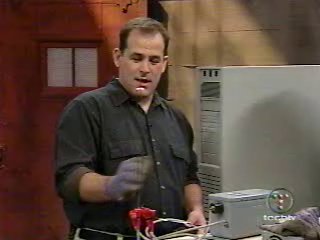 Some fans are not too enthusiastic about the idea, but I like it. It's a great opportunity for them to show the movies that they mention on the show. I hope they plan to show Soylent Green sometime. They keep refering to that movie on TSS, and I can't get it at Netflix or the local rental stores.
Posted by Christy on March 30, 2002 09:37 PM
---
Comments:
---
If it's going to be like 'Dinner & a Movie', they should cook liver while showing 'Silence of the Lambs'.
Posted by: John on March 30, 2002 09:46 PM
---
Post a comment