---
Rants & Raves
« Editing Martin | Main | Good News For a Former TSS Cast Member! »
---
July 31, 2002 Kilt Solidarity!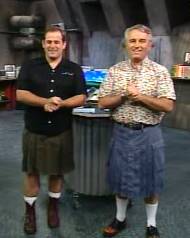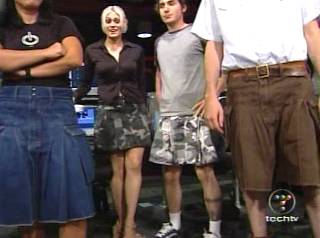 Leave it to TSS to go over the top in bringing back the kilt. The fan community is celebrating! For those of you who haven't watched the show for very long, Patrick started wearing a Utilikilt occasionally on the show about a year ago. A Utilikilt is kilt built with several pockets, useful for storing tech gadgets like PDAs, cell phones, and MP3 players. Earlier this year, Patrick was wearing a utilikilt about every other week, when suddenly, he stopped wearing them at all after March. It took a while for the fans to find out that the kilt had been banned by someone high up in the TechTV management. About a month ago, the fan community organized the Kilt Kampaign to get the ban lifted. Fans sent email, added banners to their web sites, and even changed their Leoville avatars and signatures to let the management know that they wanted Patrick to be allowed to wear his kilt. Today's show was the payoff.
Why was this issue so important? Not just because the female fans like to see Patrick's legs. The kilt is a statement of non-conformity, and no one embraces non-conformity like the tech geek community. TSS is non-conformist in that it presents subject matter that no other show does, to intelligent viewers which the rest of the networks seem to ignore.
Hopefully this is step back in the right direction for TechTV. In the last year there have been too many signs that the management had been trying to remove all uniqueness from its programming. Still missing in action are the magnetic fridge letters and Megan's alter egos, like Grandma Morrone and Super Morrone. Hopefully the management will reconsider their stance on these as well. No TV channel was ever successful by trying blend in and look like any other programming. Stuff like the kilt and Grandma Morrone causes channel surfers to say "WTF?" and flip back to TechTV to see what's going on.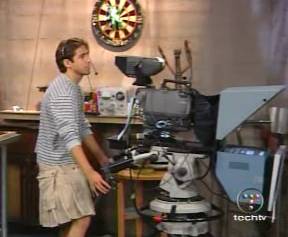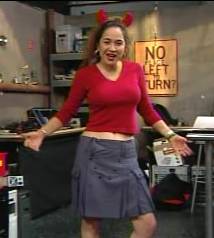 Posted by Christy on July 31, 2002 08:00 PM
---
Comments:
---
i couldn't have said it better myself, ttv is the last non-conformist network and it would be a shame to see it quietly bow down into the abyss that is prime time programing. normally i would insert something witty here, but my mind is still trying to recover from seeing morgan, megan, darci, etc. in kilts, all i can say is w00t!
Posted by: Chris on July 31, 2002 08:31 PM
---
Post a comment