---
Rants & Raves
« Kilt Solidarity! | Main | Items in the News »
---
August 14, 2002 Good News For a Former TSS Cast Member!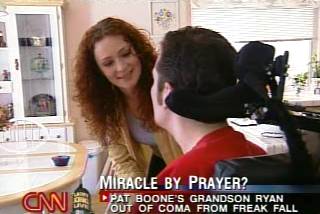 Last year, Jessica Corbin was a regular member of the TSS cast. She sat next to Megan in the old nook and did the original Site Of The Nite segments. She is the granddaughter of Pat Boone, who received a TSS house call for a segment on the show. In June of last year, her brother Ryan suffered a freak three-story fall through a skylight. He remained in a coma for months. Jessica left the show a few months after the accident in order to be near her brother.
Her brother is now out of his coma, and recovering with his family. Today, Jessica, her mom Lindy, and Pat Boone appeared on CNN's Larry King Live to talk about Ryan's ordeal. The show will re-air at 9pm and 12am PDT.
For more information about Ryan, go to prayforryan.com/.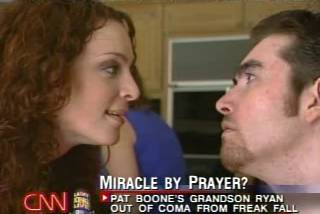 Posted by Christy on August 14, 2002 07:48 PM
---
Comments:
---
I too, have a son by the name of Ryan, who fell off a three story apartment balcony. Ryan's friend fell off too and landed on my son. Ryan's friend suffered a fractured tail bone. Unfortunately, my son Ryan, now 21 years old, suffered tramatic brain injury, many broken ribs, ruptured spleen, fractured pelvis and both lungs punctured. Fortunately he had no spinal injury. Ryan was in a coma for 8 weeks. Through many prayers and miracles and God's angels, Ryan has come a very long way. This terrible accident ocurred on his 20th birthday 7/4/01. I'm very grateful that Ryan is still here with us. I took pictures from the beginning to show Ryan the glory of God. Ryan is a true example of answered prayers and God's love and existence. Ryan has grown closer to the Lord since his accident, I believed Ryan is now saved in two ways. Thanks be to God!
Posted by: Bobbi on December 29, 2002 01:50 PM
---
Post a comment