Rants & Raves Archives
« December 2001 | Main | February 2002 »
---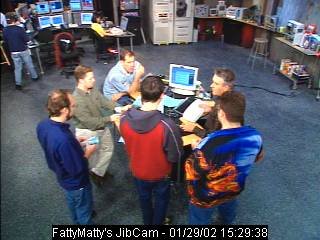 For all you spycam addicts out there, there's a new TechTV set spycam: FattyMatty's Jibcam. It's mounted on the jib, which is a crane-like mechanism that one of the cameras is mounted on. Because it is in a close location to all the action, and moves around, it is a far more interesting spycam than any of the others before it.
Posted by Christy at 09:27 PM
---
January 27, 2002 Buffer Overflow Errors
While in New York for his appearance on Live with Regis and Kelly, Leo did an interview with Alison Stewart on ABC World News Now. The interview can be seen in Real Media format on the NBC website:
Leo's Interview on ABC World News Now
On Friday's show, TSS featured Matt Conover of w00w00.org, explaining the recent security hole in AOL Instant Messenger. The cause was a buffer overflow error. The TSS article was too basic, and the w00w00 site article was a bit too sophisticated for someone like me who is fairly tech savvy but not familiar with the C programming language and x86 memory stacks. I found the following article which explains buffer overflows well at several different levels of understanding:
Definition: Buffer Overflow
Posted by Christy at 09:25 PM
---
January 18, 2002 Liz Phair's "Down" Video
Tonight's show featured an interview with Rodney Ascher, who made Liz Phair's latest video, "Down". If you visit Ascher's site,you can download a decent sized version of the video, rather than the tiny thumbnail size video that's available from the Capitol Records site.
Posted by Christy at 09:22 PM
---
January 15, 2002 Rebuild Icons
A caller to tonight's bootcamp segment had a problem with the wrong image or icon being displayed for his picture files. Leo's answer was to search for a file called shelliconcache and delete it so that Windows would rebuild it after rebooting. There's an easier way if you have TweakUI already installed, and it doesn't require rebooting. Click on Start, Control Panel, and then Settings. Open TweakUI and click the Repair tab. Select "Rebuild Icons" from the drop-down menu and click the "Repair Now" button.

Pat considers the options after being made an honorary member of 'N Sync.
Posted by Christy at 10:19 PM
---
January 14, 2002 Resending an Email Message
Here's another plug for one of my favorite alternative applications. On tonight's show, a caller to Leo's Bootcamp asked how to resend an e-mail message using Outlook Express. There was no easier way than to forward the message, delete the extra text, and then re-enter the address. Eudora (including the free version that I use) does this easily by opening the sent message in your Out box, right-clicking anywhere in the message window, and selecting "resend". You can download Eudora at Eudora.com. Eudora also has much better application, EIS, for synching e-mail on your Palm OS PDA.
In the ending e-mail segment, a viewer wanted to know how to deal with a scandisk problem. Scandisk would stall each time, and wouldn't allow the computer to boot to Windows. Leo recommended disabling Scandisk in the msdos.sys file. It doesn't seem to have made it into the show notes, so here's a Screen Savers article on how to do this: How Do You Disable ScanDisk?
Posted by Christy at 10:08 PM
---
There's a new Screen Savers fan site that debuted last week: TSS Review. Created by Mike of Atariland, it has articles, commentary, chat, and message boards. Hopefully it will fill some of the void left by the now-defunct techtvfanatics.com. I've contributed a report on Megan's presentation on Windows XP tips and tricks at the Silicon Valley Computer Society.
Posted by Christy at 10:06 PM
---
January 11, 2002 Leo Trades Quips With A Robot.
Thursday's opening segment with Leo and Sprockit the Robot was so funny I captured the video and posted it here for download.

Video Clip: Leo and Sprockit at CES (2.8 MB Quicktime)
Posted by Christy at 08:59 PM
---
January 08, 2002 Palm OS Reset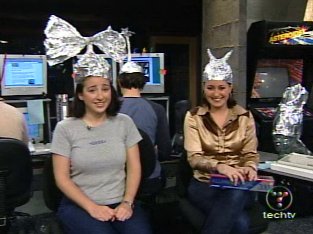 A footnote to Megan's Palm OS tip: If your Palm handheld won't charge when you put it in the cradle, but works fine otherwise, you might think that something is wrong with the battery. However, a soft reset as Megan demonstrated will often cure the problem.
Posted by Christy at 09:52 PM
---
January 06, 2002 iPod for Megan
Being a tech show, The Screen Savers has a very tech savvy set of fans, which leads to some amusing goings-on. Only a short time after Megan did her top five list of gifts to trade in for an iPod, this site appeared: ipodformegan.com.
For the record, John of the Megan Morrone Image Page states that he is not responsible for it. Megan would prefer that you not send her money for the iPod. John made the excellent suggestion of sending her an email to express your appreciation of her instead.
Posted by Christy at 08:48 PM
---