Rants & Raves Archives
« July 2002 | Main | September 2002 »
---
August 20, 2002 Items in the News
Here are the links to the news stories featured on today's episode of TSS:
Wireless Channel Use Sets Up Turf Battle
Europe To Force ISPs And Telcos To Retain Data For One Year
Posted by Christy at 10:08 PM
---
August 14, 2002 Good News For a Former TSS Cast Member!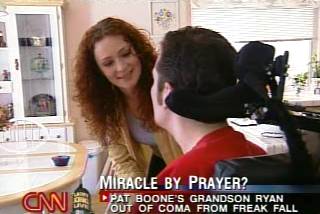 Last year, Jessica Corbin was a regular member of the TSS cast. She sat next to Megan in the old nook and did the original Site Of The Nite segments. She is the granddaughter of Pat Boone, who received a TSS house call for a segment on the show. In June of last year, her brother Ryan suffered a freak three-story fall through a skylight. He remained in a coma for months. Jessica left the show a few months after the accident in order to be near her brother.
Her brother is now out of his coma, and recovering with his family. Today, Jessica, her mom Lindy, and Pat Boone appeared on CNN's Larry King Live to talk about Ryan's ordeal. The show will re-air at 9pm and 12am PDT.
For more information about Ryan, go to prayforryan.com/.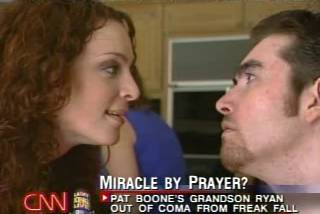 Posted by Christy at 07:48 PM
---