Rants & Raves Archives
« October 2001 | Main | December 2001 »
---
November 30, 2001 Seventies Week
Lotsa fun on TSS this week. The 70s theme this week included guests such as Nichelle Nichols of Star Trek fame, and Chistopher Knight who played Peter on The Brady Bunch. Today's finale featured a spontaneous tap dance by former TSS cohost Kate Botello and Johnny Whitaker from the TV shows Family Affair and Sigmund and the Sea Monster.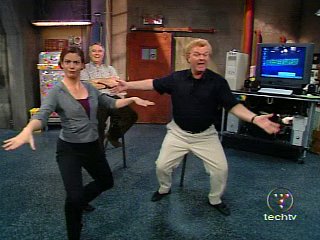 A summary of some of the more interesting tidbits from this weeks interviews:
Robert Hegyes of Welcome Back Kotter now teaches oral communication at brooks college in Long Beach, CA and has a website, www.roberthegyes.com.
In his news page he talks about his experiences teaching basic English skills to incoming freshmen who have been passed through the public school system.
Richard Hatch, who played Captain Apollo on Battlestar Galactica, has a new project, The Great War of Magellan, and he revealed that a movie based on the Battlestar Galactica tv show is in the works.
Christopher Knight of The Brady Bunch currently works for Eskape Labs, now owned by Hauphauge, which makes audio and video hardware for Mac computers.
Nichelle Nichols, who played Uhura on the classic Star Trek series and movies, has had a varied career of dancing, singing, and sci-fi writing in addition to acting. When she wanted to quit the show to return to musical theater, she was encouraged to continue by Martin Luther King himself. She also worked for NASA recruiting women and minorities for the austronaut program. Her website can be found at Uhura.com.
Johnny Whitaker currently does an online mental health show, The Dr. Zod & Johnny Show, and has had a long time interest in computers and technology.
Yay! Leo announced that Don McMillan will be back on TSS next week. Don was last on the show almost exactly two years ago, not long after I first discovered TSS. He started out as a chip designer but switched to geek-themed stand-up comedy. Other comics try to do geek humor, but this guy is the real deal. He wrote an article for TSS for that appearance: Chip Design is Hilarious -- Really!. The video link on that page no longer works, but the article is worth a read. He also has his own site at www.donmcmillan.com.
Posted by Christy at 08:35 PM
---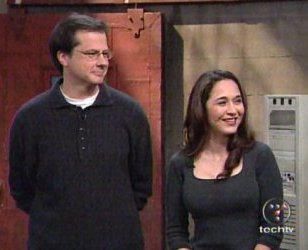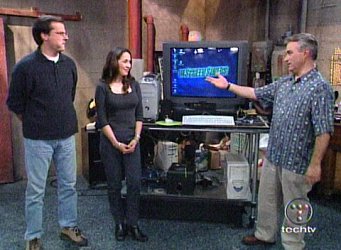 Yesss! Tonight we finally got to see Darci Wood featured in a show segment. Too long in coming, IMHO. This woman is a serious hardware-hacker, responsible for taming the motherboard problems of UGM 3.0, and bringing the Asteroids arcade game to the set. She's also highly regarded by other TSS staff members. Ginnie Waters, self-described TSS mother hen, talked about her in this dish article: The Dish: TSS Mom Speaks Out. Several months ago, Megan featured the Palm Desktop as the download of the day. If you had looked closely at her monitor, her to-do list included the item: "Learn stuff from Darci."
Articles from the TSS website by and about Darci:

The Dish: Darci Rocks
Focus On: Darci Wood
Don't Spend Your Cash on Upgrading Cache
Old Computers, New Hard Drives
Does RAM Go Bad?
Sircam: Letting Cat Out of the Bag
Upgrading the Ultimate Gaming Machine 3.0
The Screen Savers' Gets an Old Toy
Posted by Christy at 08:14 PM
---
November 16, 2001 Aggravations in Need of A Remedy
Ugh, not a great day for me as a TechTV fan. First, I discovered last night that the TechTV website has removed support for its older Real Media Files from its Media Module, the website component that pops up whenever you click on a video link. The result of which is that the links to the older TSS video clips on my links page will no longer work. I have to be content with my memories of my favorite, "Kate's RAM poetry." My apologies to those of you who had to deal with a bunch of dead links on my links page. I miraculously managed to find a work-around to a similar problem before, but I don't think lightning will strike twice.
But in more depressing news, TechTV announced today that they are laying off 130 of their employees, which is about 25% of the staff (TechTV PR statement on C|Net). It's my understanding that this mostly affects the TechLive portion of TechTV, which will be discontinued or cut back drastically. But it also appears that TSS is affected as well. It appears that Scott Herriot has been let go as well. He will be very much missed. It took me a while to tune in to his weird sense of humor, but for some time I have been looking forward to his antics on each show. The House Call segments on TSS will certainly not be the same.
It's time for an escape. I'm gonna go load some Babes In Toyland mp3 tracks and play some classic arcade games at Norbert's Emulators. I found this site recently through Fark.com. The games will work better if you go to www.java.sun.com and install their Java runtime application rather than using the one embedded in MSIE.
Posted by Christy at 10:19 PM
---
November 07, 2001 Map of Leoville
Something cool: Jason (aka Jazybones) has posted a map of Leoville. Lots of inside jokes, some of which only the citizens of Leoville can appreciate. Check out the Kangarose Apartments!
In the ending email segment, two viewers wrote in to say that after checking the enable DMA box (under Device Manager and then "Properties") for their hard drives, they could no longer boot their computers. What's worse is that they tried booting to safe mode, but there was no DMA option available there. If it flew by too fast (and it didn't make it into the shownotes) Leo suggested going to the DOS prompt and typing:
scanreg /restore
to restore to a previous version of the registry. Someone had this same problem on the TSS message boards, but it had been too long for him to use a backup version of the registry. I found this suggestion for hacking the registry to change the DMA settings: WinDOwS Tricks: Turn Off DMA.
Posted by Christy at 09:07 PM
---
November 01, 2001 Woes of Browser Compatibility
I just spent quite of bit of time working on a family website where, for the first time, I made a real effort to make sure that the pages looked good in Netscape as well as IE. I had to. My mom sent me an email saying that each successive paragraph on the main page got progressively bigger until they were too big to fit on a page. She was using Netscape 4.7, and I realized that I hadn't looked at any of my sites with anything other than IE. I downloaded Netscape versions 4.7 and 6.2 to take a look. Cleaning up the mess was NOT a pleasant experience. Javascript code that works in IE and Netscape 4.7 now no longer works in Netscape 6.2. I can understand incompatibility with older browsers, but newer ones? And CSS (cascading style sheets) gets interpreted differently in all three. Fortunately, I have a sympathetic cousin who works in web design. He sent me the following which I thought all you web developers might enjoy:
The Five Rules of Working with Cascading Style Sheets
from: A List Apart
ANY browser should be able to access the content of the site.


Rule 1 does NOT imply that the site should look the same in each browser.
If something non-essential does not work in a certain browser, Too Bad For That Browser.
Always check style sheets in Netscape 4 first. Style sheets may break in most browsers, but if they break in Netscape 4, they break really spectacularly.
Know when to stop. Sometimes, trying to apply a particular style is just more trouble than it's worth.
My mom's experience with the increasing font size was evidence of rule #4. It turned out that 4.7 doesn't let you get away with not closing your paragraph tags if you are going to use CSS. By the way, the ordered list above does not display properly in 4.7, so I am hereby invoking rule #5.
I have to disagree with Leo's assertion on last night's show that losing support for older hardware is the price you have to pay for greater stability. A caller with a Microtek parallel port scanner couldn't get drivers for it for Windows XP. He couldn't even get Windows 2000 drivers for it, which is usually a way around this type of problem. There's no reason why Microtek couldn't get drivers written for newer operating systems. I could understand if this involved five year old hardware, but Microtek was selling parallel port scanners as recently as 1999. I know because I have one myself. I don't think we would tolerate it if we could no longer buy replacement parts for cars more than three years old. I guess a particular company's history of OS upgrade support should be a consideration when evaluating hardware.
Posted by Christy at 10:02 PM
---